This week I flew to Jakarta – the capital of Indonesia. I have to admit – my first impressions have been quite positive.
On one hand it might be because I didn't have high hopes – for example as Indonesia is the biggest muslim country in the world, I imagined a lot of signs of religion, but in reality you can't see many clues of it by walking on the street. People don't pray on the streets (it seems to be more of a personal thing that they only do at home or in the mosque), headscarf is quite rare to see and seems that particularly youngsters don't want to hear anything about the religion. Overall, people are very friendly and humble and leave a much better impression than the people of Turkey for example (the other muslim country I've been to). But of course there are a lot of mosques in in city that start their morning prays (through loud speakers)already at 3.30 at night.
On the other hand, my first impressions are good because I compare it with other developing countries I've been to, and Indonesia obviously is a developing country. As following, I will write a bit about my first days in Indonesia and will bring out 6 reasons why Indonesia has left me a good impression compared to the other developing countries.
Wednesday
After 40 minutes on a public transport from airport to the city centre, and some orienteering, I met with my friends Lauri, Dessy and Aivar. While driving to the city, I noticed that although there are a lot of vehicles, most of the cars still follow their lanes and have some traffic culture (1). Of course there are scooters that are trying to cut the road from random places, but overall the traffic has a fixed direction and lanes that are more or less working as they should. In Cambodia for example it was quite impossible to understand which side the traffic is working on and in the capital of Kenya (Nairobi), the everyday traffic jams were several times worse than the traffic jams I have seen here.
Thursday
In the morning I went to the office with Aivar (at the moment I'm working in Lauri's office) and later from there to the meetings. To drive to a meeting I used Ojek – a scooter taxi. Basically every scooter on the street can be an Ojek. In the beginning I tried to negotiate my price of travel but that didn't work out very well. Later I discovered (thanks to Lauri's suggestion) probably the best possible way in the world to pay for taxi (2). So, paying for the Ojek goes like this – before your drive you ask your friends how much is OK to pay for this distance and then prepare the exact amount of money for yourself. Then take the Ojek and ask him to take you where you need. When you arrive, you step off the scooter, pay the money you had prepared, thank the driver, and leave. The Ojek driver then also says thanks and moves on. No negotiation, never paying too much and compared to the western world also no dealing with coins (because all of the totals are already rounded up in your favour). It is a great and really convenient way that is hard to believe in the beginning, but you get used to it very fast.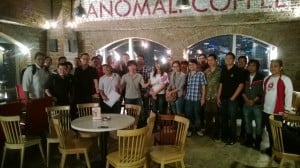 To my second meeting, which was in Plaza Indonesia mall, I got 2.5 hours earlier. I decided to find the cafeteria where the meeting was supposed to take place and then see how I will spend the rest of the time, but it took me 1.5 hours to find the place. In Indonesia everything is just so big (3), that every floor of the mall was as big as the whole Kristiine mall in Estonia. And there were 5 of those floors! Of course the cafeteria was on the fifth floor (with a very good city view though). There are a lot of this kind of malls around here. And I like it – Jakarta is big and there is just so much to do and discover. This is something that would make it worth living and working here for a longer period.
Gladly the first people to arrive to the meeting came also an hour before the scheduled start, and the rest half an hour before, so we could already start with the event (it was Indonesian mobile app developers' meeting). At first I was surprised that instead of coming later, people came half an hour earlier. But later I understood that people are actually arriving in very different times – people were gathering in total of 3 hours, the last one arriving 20 minutes before the ending. Also for the first two hours we started over every time someone new arrived. Interesting experience.
Friday
On Friday I managed to sleep enough to get over my travel fatigue, but unfortunately because of my inexperience with ACs I managed to get a sore throat – I had left it a few degrees too cold (20c). Without the AC it is impossible to sleep here. By today the sour throat has gone over to a decent cold and headaches.
During the daytime I was settling in. I'm living in a very nice villa-style house where I share the bathrooms and kitchen with others. Aivar also lives in the same house. The price includes Internet and Internet in Jakarta overall is quite accessible (4) – in the office we have a very fast Internet, in my phone I have 3G Internet (for what I pay as little as in Estonia) and in cafeterias there is usually Wi-Fi for a symbolic fee.
In the evening we went to spend time at Lauri's pool which he has by his apartment building. There were three of us (three Estonians). Later we drove to the city where we visited different open-air pubs and lounges to continue our discussions on different philosophical and economical topics. Although we were on a backpackers street, it was interesting to see there nearly weren't any tourists in Jakarta (not even on this street) – they say it's because tourists have nothing to do in here, but I find it hard to believe as it is such a big city.
Later we went back and got out of taxi 2km before our home to find something to eat. In Jakarta the life never ends, people are moving on the streets 24/7. So we stopped by at a street food place at 4.30 in the morning to get full for 10 000 rupiah (~0.6 €). This is another good thing about Indonesia – it is safe (5)! We might have been the only white people on a random (not very neat) street at 4.30am on Friday night, having several months' salary of a local person in our pocket, but not even for a second was there a feeling that we might be in danger of some kind. And even when buying food from streets you don't have to worry about the quality of it – it is good. And in the end you don't even have to worry about the price of the food as there is a menu on the table, which we couldn't understand though, but nevertheless they always ask money by the menu prices and when paying more they bring you back the correct amount. Jakarta is just safe and honest. And after what I experienced in Kenya this kind of feeling is very refreshing.
Saturday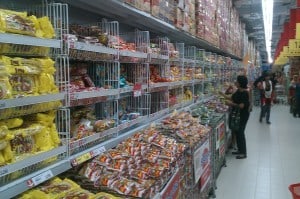 I woke up at about 1.30 PM, we had a "breakfast" on the street and then went to enjoy our Saturday by the pool of one hotel. When coming back, we stopped by a supermarket. It came out that Saturdays are not very good days for visiting the supermarket as it is quite a madhouse then. Indonesia has a strong consuming culture and shopping is probably an important part of the weekend. When entering the supermarket there where tens of people standing in two sides of the entrance to offer to taste or try their products – they even offered washing powder etc. In the supermarket (grocery section) there is a cafeteria where bigger shoppers can have a lunch and then continue shopping. That's what we did.
Later we drove home with a taxi which was also cheap and accurate – all of the taxis here have taximeters and are very cheap (partially regulated by the law). So the taxi system is working better in here than it is in Estonia.
Additionally
Additionally Jakarta is rather clean (6) and there's a lot less trash than in many other Asian-African countries. By clean ofcourse I mean clean in the developing countries category – there are still rats running on streets that seem bigger than cats (there are also a lot of cats here, but they are usually very skinny, not like rats), and other trash and plastic flying around.
People are very frugal – they never waste food. Chairs, beds and other stuff are often covered with plastic to keep them fresh longer (reminds me 90s in Estonia when people kept plastic on TV remotes). Cars are very important for people – they are usually big and high, and are parked practically in the living room of the house – their parking skills are awesome. It is common to park with just few centimetres gaps.
From the negative aspects I would bring out the noise – there is no respect for silence at night or any time. Additionally, the mosques start singing at night (and an old man singing through loud and bad speakers is not comparable with a bird song) and it is very common that there is some guy walking by the house who is singing or shouting something, or beating a metal cane against the street post at 3 AM (some kind of a signal system). They also wake up very early – on Saturday morning at 7 AM they started some kind of drilling or stone sawing work on top of our floor. As Aivar described it – sound of torture. And workers always work on weekends. Every morning at about six a clock a man with a moped starts selling breakfast to people passing by our house and shouting: "Bubur!" (porridge, in English). As shouting isn't enough he is also beeping and doing all other kind of noises to get attention. My earplugs are priceless in here.
Weather, like the pilot said: "Is as it always is during this season – 32C and sunny". So half a year the weather is 32C and sunny, and the other half it is 32C, sunny and a little bit of rain (so that you know when you ask me about the weather). In Jakarta there is also a constant smog (like in most of the cities of developing countries) so the sun usually isn't very bright and seems to be like behind a light cloud. It also goes dark in here at the same time every evening (at around 6 PM) and that changes only up to half an hour during the year.
Tallinn's weather in comparison is always a lot more interesting (at the moment 9C and heavy rain as my phone keeps me updated).