Through our consultant-as-partner approach, we provide innovation management & consulting services from ideas to strategy, validation, execution and scaling
Design Thinking & Creativity
Many of our clients approach us before they have any specific ideas. They might have a dream, a vision they wish to achieve, or a business challenge, but not yet an understanding of how to reach this goal. We will start by putting together a toolbox of design thinking methodologies to help the management team map out different possibilities and opportunities to consider. It is the external viewpoint and out-of-the-box thinking that helps managers notice the vast opportunities as well as threats facing them in close proximity.
We can work with you one-on-one helping to map out different opportunities or with your whole management team in a workshop format.
Innovation Discovery & Validation
Recognized for our startup background and lean methodologies, we are well equipped to guide you in scouting innovation ideas, technologies and startups while keeping in mind your true business potential based on your specific needs.
Taking a truly lean approach to innovation discovery, we aim to validate a number of innovation initiatives cost-effectively and quickly, enabling the resources to be directed on the high-potential opportunities early on in the process.
Having validated dozens of business ideas and actively practising lean methodologies with our portfolio startup companies, our team has become highly effective in these methods and is able to advise through personal experience.
Innovation & Change Management
How come innovation is considered risky while marketing is not usually considered a risky endeavour? Just like innovation, every considerable marketing effort includes some risk but that risk is managed. Similarly, the risk of innovation is manageable. Innovation is risky only when not managed appropriately.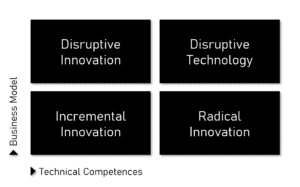 We are here to help you manage your innovation risks by firstly mapping the innovation landscape and then choosing the appropriate strategy for each type of innovation – as the approach for different innovation types is often vastly different and even opposing to each other.
To acknowledge our corporate clients' challenges, we have also created the innovation audit that is specifically designed to map out innovation challenges and risks that prevent organisations from achieving their maximum potential with innovation initiatives.
Strategy & Roadmapping
We start with building up a deep understanding of the company culture, strengths and opportunities as well as organizational structure. Backed by data-driven research, we aim to create holistic strategies that consider both business and innovation aspirations, internal and external trends of the present and future.
Using proven innovation optimization methodologies and models, we are able to bring down the cost of new innovations and significantly reduce risks that are commonly considered inevitable for innovation processes.
From startups to corporations our unique set of competencies enable us to be a valuable external partner for building your innovation roadmap – combining business strategies with innovation tactics.
See Also: Innovation Strategy Workshop
Talent Management & Leadership
The core innovation of the business always happens internally – it is not something a company can outsource (which does not mean that external partners can not be involved in the process). For the innovation to happen or the innovation process to be lead by the employees and company leadership, they need certain innovation capabilities, knowledge and knowhow.
This know-how needs to be enabled and built within the organisation – it sometimes also means hiring new people that can help accelerate the process. But it needs to be insightful and a coordinated process.
Having recruited and worked with international teams from different cultural backgrounds, we have the experience to help you evaluate and foster innovation capabilities within your organisation so that innovation could become the core of your organisational DNA.
New Media & Communication
Many great ideas get lost due to lack of awareness. Great innovation, however, has the benefit of increased public interest that is not to be underestimated but embraced. Media interest and guerilla marketing (growth hacking) need to be part of the strategy for innovation initiatives from the very beginning so that it could increase the return on investment. Some innovation initiatives are even targeted solely as marketing projects as the development cost of the product can be significantly smaller than the marketing value it brings once released.
Any innovation initiative that doesn't include the media and marketing plan in its strategy risks losing a significant added value and lost opportunity.
Having created viral marketing campaigns and national media coverage with nonexistent marketing budgets with several of our startup companies, we are well experienced to guide you in your marketing strategy and campaigns for innovation inititiaves.